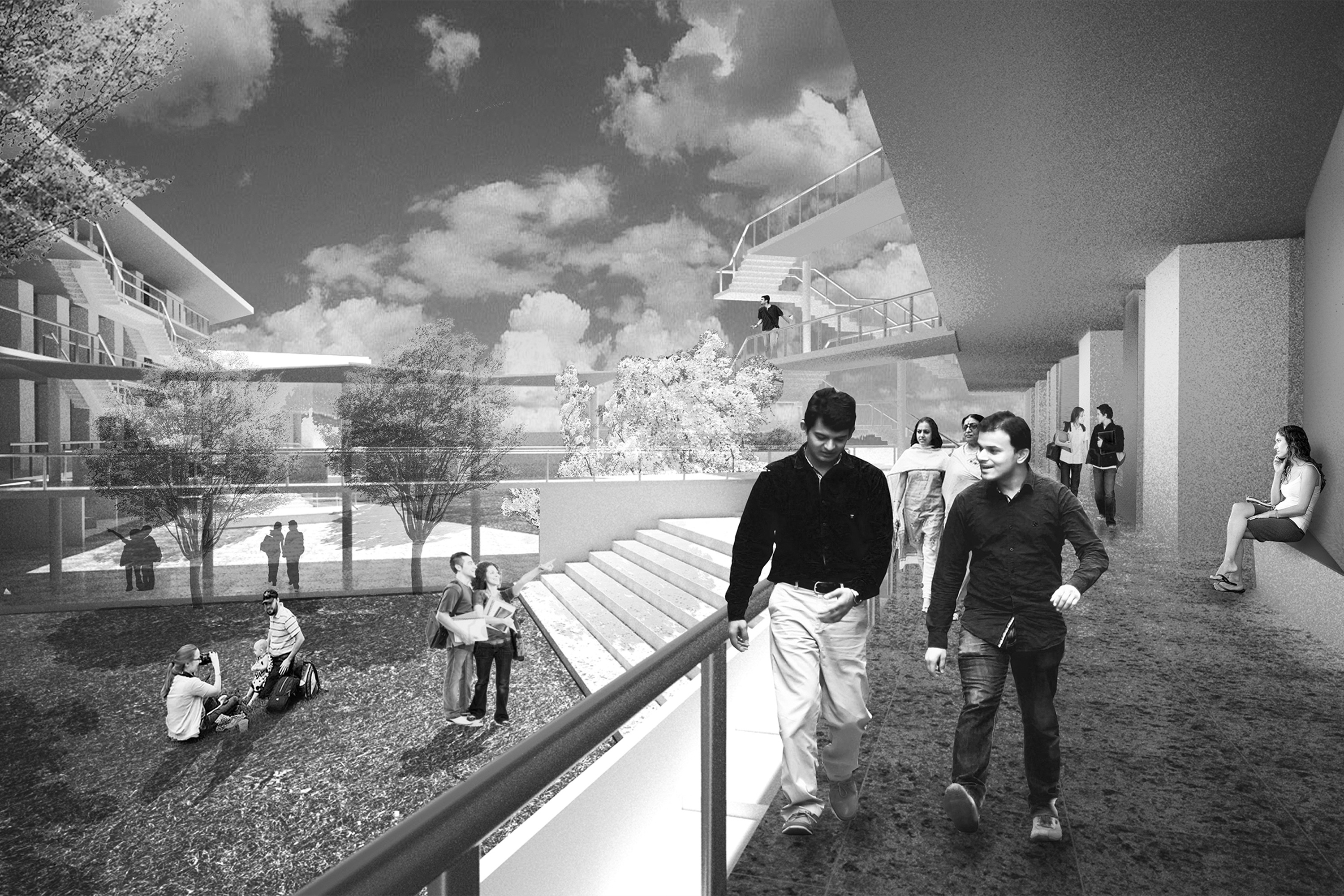 Project info

Location: Mohali, INDIA
Site Area: 435,600 sq. ft
Project Type: Institutional
Status : Proposed




Spreading across an area of 10 Acres, the Bajaj Foundation Institute in Mohali rethinks the mundane design template of institutional venues in the Indian context. The engineering & management college campus navigates interfaces of design that give the built framework a refreshed tone & ambience.

The campus has been constructed upon a peculiarly shaped plot abutting the highway, allowing the architects to mould the final form into a versatile ensemble of spaces. The layout of the masterplan has been envisioned as an oasis where the programmatic functions look into the landscaped campus grounds, which are the heart of the space. The minimal design scheme allows rectilinear & angular forms to take precedence in the construct of the campus.

Single-loaded corridors unfold into gardens & play a pivotal role in activating various zones that have been connected using bridges & staircases across the volume of the built mass. Balconies, terraces & niches act as break-out spaces where the students & staff members can unwind & interact through the course of the day, hence shaping the auxiliary areas into a social arena of sorts.

The library building in the layout poses as the perfect visual segue into the grammar of design exhibited by the campus. Its triple height volume & extended roof canopy make the library an elemental & inviting component in the college's masterplan. The western elevation has been treated at the façade level using deep & inclined overhangs that shelter the indoors from harsh solar exposure.

The Bajaj Foundation Institute has been conceptualized in a manner that banishes the template of modular designs that are hostage to constricted layouts & spaces that portray a clear disconnect between the indoors & the outdoors. The project redefines the norms of archetypal design & nudges one to visualize educational venues in a different light, where a structure can celebrate the union of the inside & the outside.