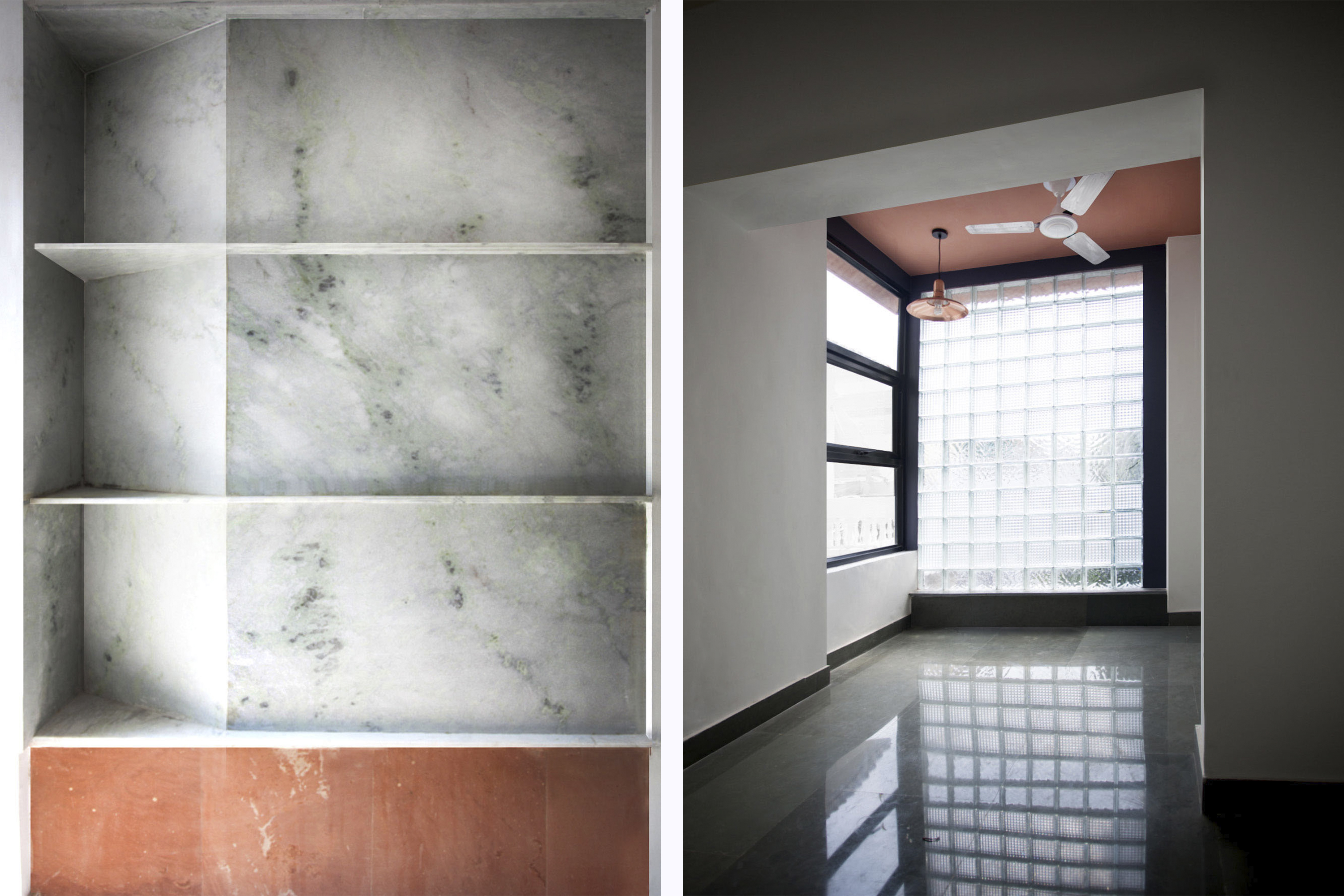 Project info



Location: Gurgaon, INDIA
Area: 1000 sq. ft
Project Type : Residential
Status: Completed, 2015


The Sushant Lok Haveli is the marriage of old-world charm & modern undertones. This 1,000 sq. ft project based in Gurgaon entailed extensions & renovations in the existent layout with the inclusion of contemporary materials & elements.
The Rajasthani family that inhabits the home, holds their cultural roots close to their hearts. The residence was retrofitted with elements that reflected a neoteric feel whilst retaining the traditional strains of design & layout. The scope of work comprised the renovation of the kitchen unit, the addition of a room & the erection of a custom staircase.
The kitchen section witnessed the addition of a white marble stone screen that doubles up as a shelving unit. The addition of this feature adds to the sleek grammar of the kitchen unit whilst creating a distinction between the dining & kitchen spaces. The stone screen emanates a mild glow into the surrounding spaces during the presence of daylight as the light is refracted softly through the marble's translucent surface.
The external staircase has been designed in accordance with the tight space availability & circulation requirement of the space. The steel stringer staircase composed of a geometric zig-zag profile is supported with a solid steel column member, with the provision of moulded steel plate handrails. The staircase finished off in a brilliant tangerine hue is embellished overhead with a meshed canopy sheathed in lush creepers that add a sense of vitality to the structure. The entire ensemble is the quintessential example of a lightweight modern structure being incorporated into the older solid body of construction.
At a structural level, the haveli's load-bearing walls were retained & a steel frame façade was juxtaposed upon the existing façade surface. This layered façade made a provision for flexibility in the design of the openings & the penetration of daylight into the space. Stone chajjas frame some windows in the elevation and is reminiscent of medieval architecture & acts as an interesting visual element. The haveli's front offers views of the courtyard, whereas the rear overlooks the gardens of the neighbouring row houses. The 'L'-shaped layout of the residence reiterates the axiality of the layout. The residence is a concoction of volumetric play, cascading levels & niches that unite the indoors & outdoors in the form of terraces, landscaped balconies & courts that are strewn across the entirety of the built space.
Glass blocks fitted into sections of the facades apart from providing visual privacy, facilitate the soft illuminance of the interiors during the day. The home emanates a gleaming radiance during the evenings as the lights illuminate the interiors.
The Sushant Lok Haveli narrates the saga of a home replete with a familial atmosphere & new age minimalism, blended together in a harmonious union.