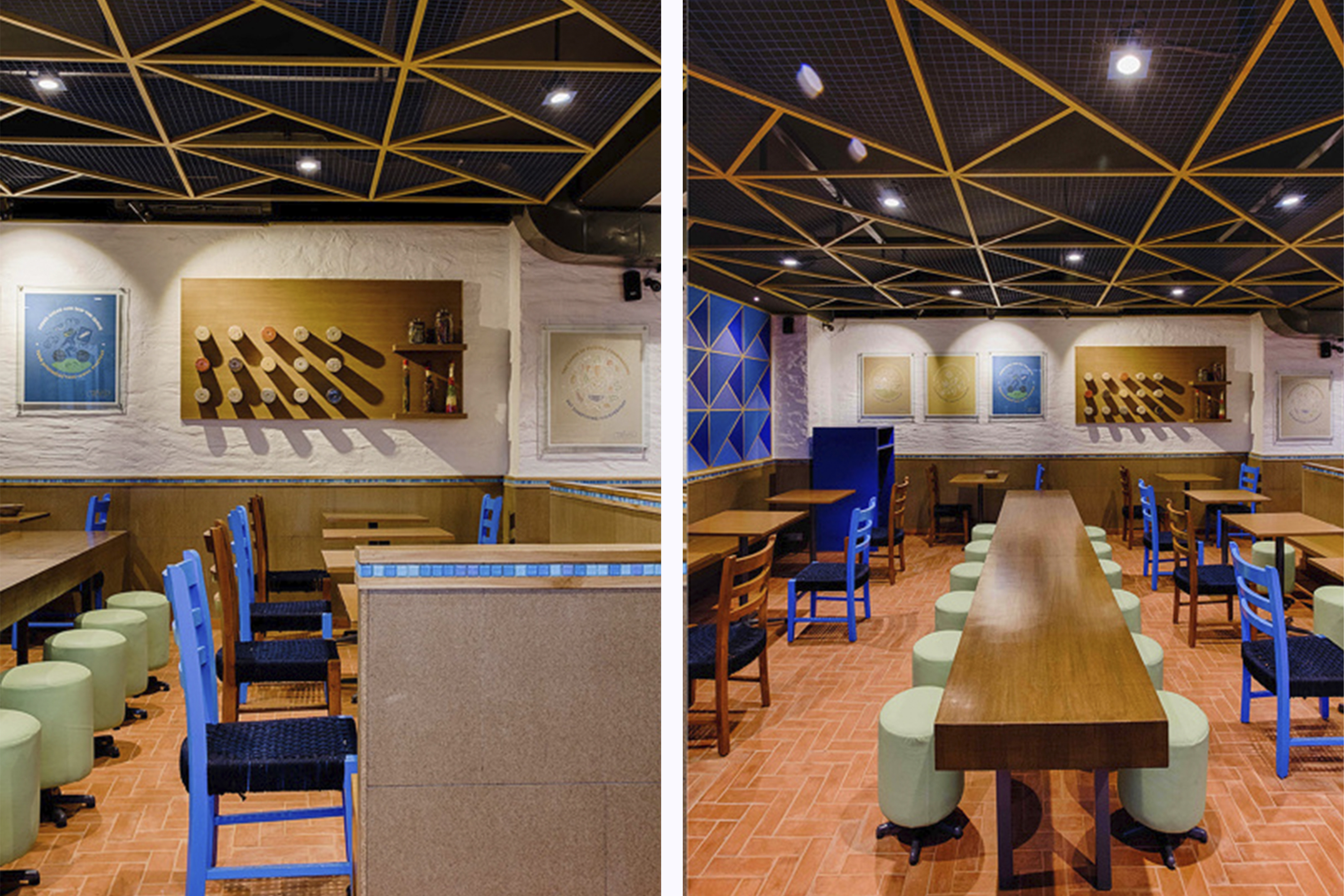 Project info



Location: Ahmedabad, INDIA
Area: 800 sq. ft
Project Type : Hospitality and F&B
Status: Completed, 2016

Cultural identity soaked in a contemporary demeanour weaves the ambience at Tahini, a casual & quick serving Mediterranean cuisine eatery located in Ahmedabad. The restaurant's design
harbors inspiration from the vast blue Mediterranean skies & the rooted character of the earththat sustains us. The design scheme for Tahini was conceptualized as a template that could be replicated at its numerous branches in the future. The careful curation of a sourcebook helpedcentralize the material & idea palettes in a consolidated form, hence making reference & execution efficient.The materiality & finishes utilized in the design of the venue, exude a minimalistic & rustic persona. Brilliant hues in the form of artistic installations, intricately crafted furniture &palpable design elements unite to form the conceptual fabric of the space. An earthy material palette consisting of terracotta flooring, textured plaster finished walls in a white hue & hand-glazed tiles render the designed space a new-age & upbeat atmosphere well suited for theyoung & urban clientele base.

The feature graphic blue wall displays a neoteric take on visual cultural elements that finds its roots implanted in Mediterranean descent, punctuating the interiors with a strong pop of color & vitality. The seed wall is an alluring display of condiments & grains that represent the keyingredients that give the cuisine its authenticity. The suspended ceiling framework mimics the geometric tessellation displayed on the feature wall & bestows the space with a distinct visualattribute.

The furniture scheme at Tahini employs compact pieces that are created using a palette ofwood, jute, metal & leather rendered in hues of mint green, aqua & cobalt blue. The restaurant spread caters to dining configurations apt for groups of guests in the form of communalseating, benches & bar seating provisions.

With Tahini, the classic dining experience witnesses a trendy & youthful facelift that immerses its patrons in an aesthetically fashioned ambience that marries culture & à la mode design.